Giant slide street race for Wigan and Leigh Hospice fundraiser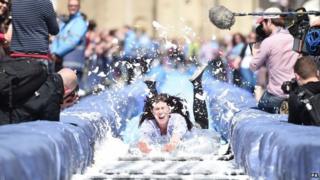 A giant water slide will be set up in Greater Manchester for about 700 thrillseekers to race each other down the 361ft (110m) stretch for charity.
It will take over Standishgate in Wigan town centre from the Grand Arcade entrance and will end after a 66ft (20m) stopping zone.
Wigan and Leigh Hospice organised the fundraiser following the success of a similar, but shorter 295ft (90m) outdoor slide in Bristol.
The event takes place on 16 August.
Firefighters will supply water for the slide and farmers will lend more than 300 bales of hay to create two lanes, which will be covered by plastic sheeting and rubber matting.
Maxine Armstrong, fundraising and lottery manager at the hospice, said: "We considered a few locations but Standishgate has a natural gradient so it's perfect.
"Those taking part can bring lilos or wear fancy dress - we just want everyone to help us make a memorable day in Wigan while raising funds for the hospice."
The ticketed event, organised with Wigan Council, starts at 11:30 BST until 16:00 BST.