BAE Systems former Woodford Aerodrome homes plan approved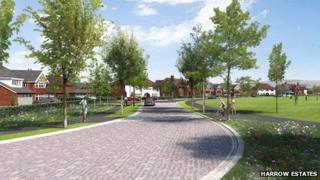 A plan to build nearly 1,000 homes on a former British Aerospace site has been approved by a single vote majority.
Stockport Council planning committee chairman Lenny Grice cast the deciding vote for the development at Woodford Aerodrome in Chester Road.
The committee then referred the scheme to the Communities Secretary Eric Pickles.
Harrow Estates also plans to build business units, shops, a school and a pub on the site.
Nine-year project
Stockport Council dubbed the scheme "the biggest development in the North West for the next ten years".
The developer said 15% of the 920 homes at the former aerodrome have been earmarked for socially affordable housing, with additional funding being given towards another 10% off the site.
Proposals were put forward, and a consultation was launched, after BAE Systems sold the site in 2011 when production there ceased.
The defence giant manufactured military aircraft at the site from 1924.
A council spokeswoman said: "Stockport Council resolved to refer the matter to the Secretary of State for Communities and Local Government for consideration of whether the development may be viewed as a departure from adopted policy."
Demolition of existing buildings is expected to begin later this year, with a phased construction of the nine-year project due to start in 2015.