Wigan showroom vandals smash 70 windows with sledgehammer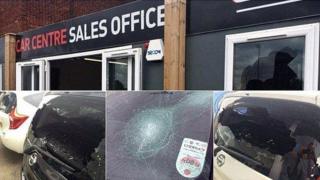 About 70 car windows have been smashed at a car dealership in Wigan.
Police believe the damage was caused between 12:00 BST on Tuesday and the early hours of Wednesday at Chorley Nissan, Pottery Lane.
It is thought the three vandals used a sledgehammer and sticks to smash the showroom windows before damaging the vehicles.
Police called the attack "total and utter wanton vandalism".