Clayton Vale attempted rape attacker image released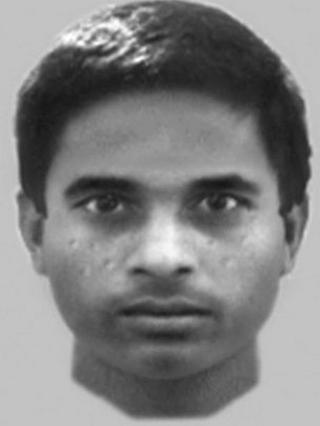 Police investigating the attempted rape of a woman whose attacker was fought off by a dog walker and a runner have released an image of the man involved.
The 30-year-old was attacked while running in Clayton Vale nature reserve at about 11:45 BST on Tuesday.
Her screams were heard by the man and woman, who were nearby. Police said the female dog walker kicked the attacker repeatedly to drive him away.
Her attacker, described as Asian, slim and of average height, escaped by bike.
Greater Manchester Police said he was in his late 20s or early 30s, had short dark hair, scars on both cheeks and was wearing a dark tracksuit top and jogging bottoms with gold or yellow embroidery.
Det Insp Tanya Kitchen said someone must know the attacker and must "stop protecting this man with their silence".
She said he was "clearly a danger to the public [and] left a young woman in a deeply distressed state, from which she has still not fully recovered".
"Had there not been people around to help, her ordeal would have been even worse.
"I have no doubt that if this man remains at large, other woman are in danger of becoming victims as well."