'Ink lovers' throng to Manchester International Tattoo Show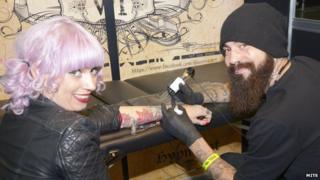 Around 8,000 "ink lovers" have spent the weekend in Manchester at one of the tattoo industry's biggest UK shows.
More than 200 artists showed off their craft at The Manchester International Tattoo Show, which is in its 13th year.
Among those inking was Manchester-based tattooist Louis Molloy, who has worked on many famous names, including David Beckham and Ricky Hatton.
Event manager Shelley Bond said it had been a weekend "celebrating the best that the tattoo scene has to offer".
Some visitors had booked their tickets up to a year in advance to secure a slot with the visiting artists, as some rarely come to the UK to work.
Ms Bond said she was "delighted with this year's attendance figures" to the two-day event, which also saw dance performances and artist showcases.
"Ink lovers have travelled from all around the globe to be tattooed by the world's leading artists," she said.