108 wanted offenders held in Manchester raids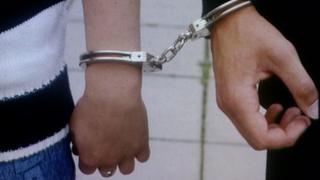 More than 100 on-the-run offenders have been arrested by police in Greater Manchester.
Chief Supt John O'Hare said Operation Dawn Thunder was aimed at removing criminals who represented a "significant risk to our communities".
In total 108 people were arrested during the two-day operation.
A number had been returned to prison while others were in custody and would be questioned by detectives, said a police spokesman.
Mr O'Hare said: "Not only are they wanted for their original crimes, but when they are on the run and in hiding they often have to resort to further criminality such as theft and burglary just to get their hands on cash.
"That leads to more innocent people being caught up in this web of criminality."