Calls to stop 'bullying' Gaza protests in Manchester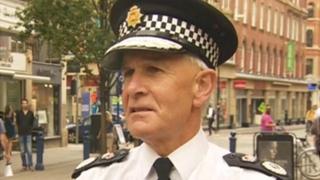 Police and council leaders have called for an end to "bullying" Gaza protests in Manchester city centre.
Pro-Palestine and pro-Israeli groups have held protests in the King Street and Market Street areas since July.
Councillor Pat Karney, Manchester City Council's city centre spokesperson, called for protesters to stop "bullying shop workers who have nothing to do with the Gaza situation".
Manchester Palestine Action said it could suspend its weekend protests.
A spokesman for the group said: "It is not our intention to impact on businesses not subject to our boycott, and we are eager to maintain community wellbeing.
"As such, Manchester Palestine Action are now considering suspending the weekend protests until further notice."
Although it will continue a smaller presence in the week.
City centre 'mayhem'
Greater Manchester's Chief Constable Sir Peter Fahy, said the protests had caused "upset and worry" to shops in the area.
"Targeting individual shops...I've got to ask, is this the right way to do this?" said Mr Fahy.
"I think the city centre needs a rest from this and I am calling for a period for all concerned to consider their position."
Mr Karney said shoppers were "seeing all this mayhem and deciding to bypass it".
He said the council had dedicated Piccadilly Gardens for protests and meetings.
Fiona Brett, from Boodles Jewellers on King Street, said: "We don't like the level of aggression that's happening on particular sides.
"We had children here in our shop who were crying because they couldn't get out."
A spokesman for the Boycott Kedem (an Israeli cosmetics company) campaign said: "We are outside Kedem because it stocks Israeli goods, and we have reason to believe (from UN reports) the minerals in their products are extracted in illegal settlements in the West Bank."