Lancashire Fusiliers march re-enacted in Rochdale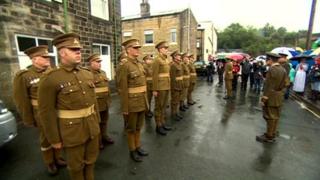 People have lined Rochdale's streets for a re-enactment of the Lancashire Fusiliers final march before they headed to war in 1914.
The re-enactment was arranged by the Todmorden British Legion.
It included Tod PALS, reserves from the Royal Regiment of Fusiliers and Todmorden Community Band marching 12 miles in full World War One uniforms.
More than 1,000 soldiers marched from Todmorden to Rochdale in August 1914.
Residents showed their support when the march arrived into the Rochdale borough at the Summit Inn, Littleborough and took the route of Todmorden Road, Featherstall Road and then Halifax Road, turning on to Entwistle Road and arriving at St Andrews Church.
There was a short public ceremony including a wreath laying with the last post sounded by the cenotaph at the town hall.