Annalise Holt: Death crash zebra crossing replaced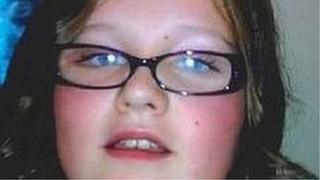 Work has begun to improve safety on a stretch of road where a 12-year-old girl was killed in December.
Thousands of people signed a petition calling for changes to the zebra crossing on Milnrow Road, in Shaw where Annalise Holt was hit by a van.
Traffic lights will be put in place at its junction with Linney Lane.
Pedestrian controlled crossings will also be positioned on each arm of the junction to replace the zebra crossing.
Annalise was hit by a van on the zebra crossing sparking a demonstration and a petition which attracted more than 5,400 signatures.
An Oldham Council report in 2010 found more than 30 people had been injured in Milnrow Road in five years.
Councillor Dave Hibbert, cabinet member for housing, planning and transport, said: "We considered a number of options for this road layout, all of which were shared with residents and the appropriate bodies."