Concern over safety at Hindley Young Offenders Institution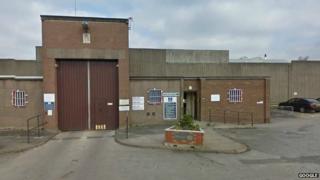 A young offenders institution is still struggling to keep vulnerable young men safe, inspectors have said.
Inspectors found Hindley Young Offenders Institution (YOI), near Wigan, Greater Manchester, had made "significant improvements".
But reported incidents of bullying had increased since the last inspection.
An already high level of fights and assaults noted at an earlier inspection had increased from 28 to an average of 32 a month, it found.
The unannounced inspection in March found bullying was up to 251 incidents reported in the previous six months, from 199 incidents at the last inspection in April 2013.
Punched and kicked
In one case, a youth who appeared to have fallen out with others was forced to "report" to a side room to meet his assailants and while one boy kept watch, others crowded around to punch and kick him.
The incident only came to light when CCTV was viewed later, inspectors said.
There had also been 167 self-harm incidents in the previous six months, continuing a rise noted at the previous visit.
The inspection took place while the inquest of Jake Hardy was in progress. The 17-year-old hanged himself in his Hindley cell in January 2012.
The inquest jury found multiple failings by staff had contributed to his death.
Chief inspector of prisons Nick Hardwick said: "The boys Hindley holds are now more vulnerable and more challenging than ever... the evidence of this inspection suggests a much more fundamental review is required about how best to hold these boys safely and securely."
Mr Hardwick also hit out at what he called "reckless and dangerous" proposals to withdraw funding from the jail's Willow unit, which holds up to 13 inmates with the most complex problems, saying in his opinion it was "a vital service".
Michael Spurr, chief executive officer of the National Offender Management Service, said the boys "are being given access to good quality education, training and resettlement work which are all key to their rehabilitation".