One Direction Harry Styles rapped by water company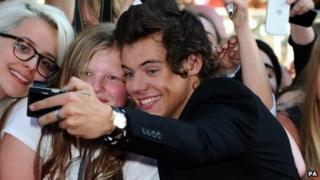 One Direction singer Harry Styles has been chastised by a water company which has accused him of encouraging fans to waste water.
Water firm United Utilities criticised a video he posted online, which shows the star brushing his teeth with the tap running.
"A running tap wastes more than six litres of water a minute," said a company spokesman.
Nobody from the band has so far been available for comment.
The firm, which provides water for north-west England, said the clip, which has received more than 1.3 million views, was a bad example to fans of the 20-year-old star, who grew up in Holmes Chapel, Cheshire.
Sean Robinson, spokesman for the water firm, said: "This video shows water heading in 'One Direction' - down the plughole."
United Utilities said it was commenting now on the clip, which was posted last year, because of the "ongoing debate about water efficiency".