Muslim gravestones desecrated by vandals in Chadderton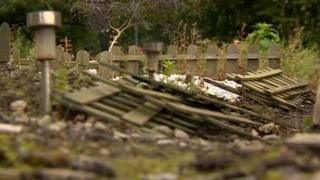 A number of graves have been desecrated by vandals in an attack on a cemetery in Oldham, Greater Manchester.
Police said up to 10 graves were targeted in the Muslim area of Chadderton Cemetery on Middleton Road.
A spokesman said the attack took place sometime between Friday evening and Saturday morning.
Grave markers and headstones were uprooted, flowers were trampled, crushed and scattered and a brass plaque was ripped off a headstone.
Greater Manchester Police said officers were called by a "distraught loved one" of a woman buried in the cemetery's Muslim section.
Sgt Jon Martin said: "The culprits have singled out the resting places of those who have lost their lives, purely because of their religion."
He added this was a "deliberate, calculating and cruel act of desecrating the memories of Muslims who are buried at the cemetery".