Cat heads found in dumped bin bag in Manchester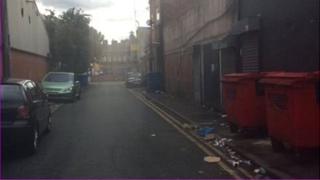 A dumped bin bag containing severed cats' heads was found in a street near Manchester's Curry Mile.
The city's council said a fly-tipping report was investigated on Walmer Street East, Rusholme, on Friday.
The black bin liner contained remains of at least four cats along with rubbish, the council confirmed.
A spokesman said: "This is obviously an incredibly distressing and sickening incident which we are now looking into."
The council is trying to ascertain how the bag came to be dumped in the street.
"At this stage we have no way of knowing how these animal parts came to be where they were discovered but we will be contacting the RSPCA as this is clearly an extreme example of animal cruelty."
Cathy Hyde, the RSPCA's chief inspector, said: "This sounds like a very distressing incident, especially for the people who found the remains."