Deacon Alan Morris: Schoolboy was whipped in sex abuse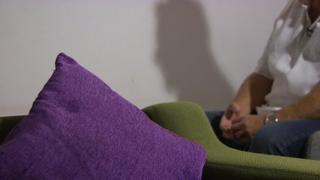 One of the victims of church deacon Alan Morris has recalled how the "vicious beatings" he suffered became sexual abuse from which he never recovered.
Morris, 64, has been jailed for nine years for physically and sexually abusing ten pupils at St Ambrose RC College in Hale Barns, Altrincham, between 1972 and 1991.
The former pupil, who does not want to be named, said Morris "ruled with an iron hand" but described how the teacher got sexual gratification from chastising him.
The victim said he would be "taken aside" during his lunch to be beaten or whipped in "extra lessons" in a private classroom.
'Whipped with hose'
He said Morris was not the only teacher at the boys-only school to use corporal punishment where beatings were "the norm".
"He was no different to a lot of the others; he just went too far."
The former pupil recalled his first beating when Morris whipped him with a 4ft (120cm) length of Bunsen burner hose.
The second time he said he was given the option of a plimsoll, being whipped again or being struck with Morris's hand.
"Naively, I took the hand," he said, explaining that this was when the sexual abuse started.
He said that was "the final straw".
"The threat of being touched and manipulated and the other things he did was just the straw that broke the camel's back for me."
'Fantasists'
He said the school became a "horrible place to be". He started to play truant and dropped the subject Morris taught to keep away from him.
The victim said as a "small lad" and a "bit of a loner", he believes he was a "vulnerable target".
He said there was no point in reporting Morris's abuse.
"Who's going to believe the word of a small boy against the teacher who's meant to be working in a Christian school?
"They'd call you fantasists or [say] you're making it up, or 'stop lying'."
After giving evidence at Morris's trial at Manchester Minshull Street Crown Court, he said he looked straight at his abuser who would not make eye contact with him.
"He hadn't even got the bravery to look at me in the eye. He just put his head down as I walked past him.
"He showed the cowardice of the man. The power over a young boy is one thing; facing up to your responsibilities of what you did 30-plus years ago - he couldn't do it."
Mental scars
The abuse ruined the victim's relationships with those close to him during his school life, as well as his marriage.
He said: "I always thought sex was dirty after what he did."
The mental scars left him unable to have a physical relationship with his wife, he said.
"The more I fell in love after we had our son, the more deeply I felt for her, the less physical contact I could have with her, to the point where our marriage ended up finishing."
Even today, it continues to have an impact on his life.
"I have got a partner now who knows everything and is superb, but he ruined that side.
"I know what a physical relationship is and I know what a loving relationship is, but I don't know what a physical loving relationship is," he said.
"That is down to that man."