Greater Manchester Police sorry over stab death failing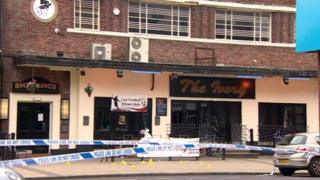 Greater Manchester Police (GMP) has apologised for a delay in telling the family of a man who was killed in a street fight that he had died.
Rhyan Wilson, 18, was stabbed in the chest near the Ivory pub in Flixton Road, Urmston, on Saturday.
It is understood the family found out about his death on social media. GMP "did not provide" adequate support.
Dannell Dunkley, 35, of Gorton, Manchester, has appeared in court charged with murder.
Mr Dunkley is also charged with attempted murder and was remanded to appear at Manchester Crown Court on 11 November.
Assistant Chief Constable Ian Wiggett said: "We acknowledge that we let Rhyan's family down and did not provide the level of support and information that we should have done.
"I visited his family to offer our apologies. We have carried out a review of the service provided to the family and entirely accept that we failed the family in those initial hours."