Heywood street renamed after VC hero Pte Anthony Palmer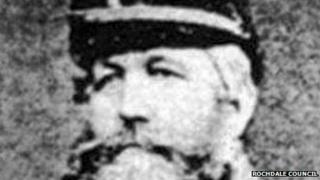 A street has been renamed to commemorate a Crimean War hero and Victoria Cross (VC) recipient buried in Greater Manchester.
Pte Anthony Palmer, whose grave is in Heywood Cemetery, was awarded the honour for bravely charging against the enemy during the 1854-56 war.
The 3rd Battalion Grenadier Guards soldier also saved a man's life.
Hundreds of people turned out as Wood Street in Heywood was renamed Private Anthony Palmer VC Parade.
'Preserve his memory'
A heritage sign was also unveiled outside Heywood Library.
Pte Palmer, who died aged 73, is buried in a family plot and his gravestone reads: "An upright, valorous, God-fearing hero much beloved".
In November 1854, he made a "single charge against the enemy" and "undoubtedly saved [Brevet Major] Sir Charles [Russell's] life when he shot an assailant who was about to bayonet him," his VC citation reads.
Pte Palmer left the army in 1863.
Alan McCarthy, lead member for the Armed Forces at Rochdale Council, said: "Private Palmer's story is one of gallantry and selflessness.
"He is buried in Heywood and, as such, we have an obligation to preserve his memory and to recognise his incredible heroism."