Para-athlete Eleni Papadopoulos' adapted bike stolen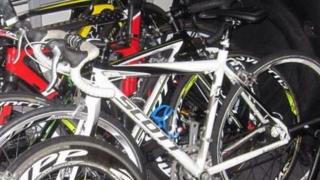 A top sporting star, who was second in last year's Paratriathlon World Championship, has had her bike stolen in Manchester.
Eleni Papadopoulos, from Sunderland, had her specially adapted bike taken from Manchester Aquatics Centre.
The 22-year-old Manchester University student, who struggles to walk as she has cerebral palsy, appealed for the Scott Speedster to be returned.
"It was my godsend. I'm devastated," she said.
"That bike gave me my independence. I not only trained with it, I use it to get to university, do my food shopping; basically I use it for everything.
"I'm not a funded athlete and I can't afford to replace it. I saved for years and worked so hard to get it.
"It has sentimental value to me too as I won my first British Triathlon Championship on it, which meant I qualified for the World Championships," she added.
Ms Papadopoulos said she had locked the bike outside the centre on Wednesday evening because she was poorly and unable to cycle home.
When she arrived for training at 04:45 BST she said the bike was missing and some other bicycle locks had been tampered with.
Greater Manchester Police confirmed it was making inquiries into the theft.
Ms Papadopoulos, who set a world record for 200m Butterfly in the S10 category, is a hopeful for the 2016 Rio Paralympics for both the triathlon and swimming.