Left lollipop drive-by shooter Rymel Downer jailed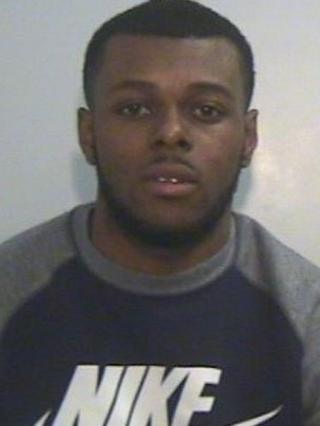 A would-be drive-by killer who was caught after leaving a licked lollipop in his getaway car has been jailed.
Rymel Downer, 25, of Albermarle Street, Moss Side, shot a 21-year-old man from a BMW 330D outside a Manchester barbers on 25 May last year.
He was arrested after police investigated the car, which had been set alight in Whalley Range, and found a lollipop with his DNA on it.
He was given 17 years for attempted murder at Manchester Crown Court.
The victim, who was hit in the mouth by one of the three shots fired by Downer, was rushed to hospital by his cousin and underwent emergency surgery.
Police said he was discharged after two weeks and has since made "a decent recovery".
The search of the car also revealed a CD wallet with Downer's fingerprints on it.
Police also used mobile phone records to identify that Downer was in the area at the time of the shooting.
Det Ch Insp Pete Marsh said it was "utterly miraculous" that Downer's victim had not been killed.
"Everything about this incident points to a concerted effort to kill the victim and it is only by the tiniest of margins that he survived.
"Downer was clearly confident of getting away with his crime, however officers quickly build up a wealth of evidence against him and justice has been done."