Wigan councillor Robert Bleakley faces resignation motion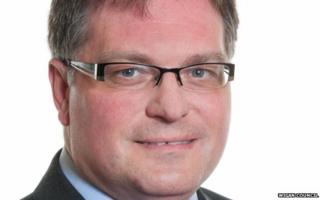 A councillor has proposed a motion calling for a colleague who spent £2,500 calling sex chat lines from a council-issued mobile to resign.
Wigan Independents' Robert Bleakley was banned from speaking to female council staff after the bill was revealed.
The proposal by Labour councillor Terence Halliwell will be debated at a Wigan Council meeting on 24 September.
In it, he said Mr Bleakley had brought the council into "disrepute for serious breaches" of its code of conduct.
An investigation by the council found he had also used the phone to send explicit text messages, which showed he had a "problem with women", had viewed pornographic material on his council-issued laptop and had deliberately altered an email to try to jeopardise a senior employee's job.
Mr Halliwell's motion said that as a result, it was the view of the council "that he should tender his resignation with immediate effect".
Mr Bleakley, who has also faced a petition backed by the Labour MP for Leigh Andy Burnham calling for his resignation, has been unavailable for comment.