Leg found behind Whitworth Tory club leads to body find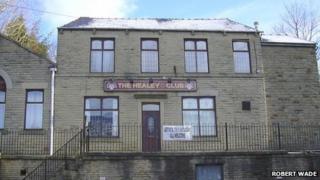 A body found when a dog walker discovered a human leg near a Greater Manchester social club is thought to be that of a missing 31-year-old man.
Police said there was a "strong possibility" the body could be Heath Nield who disappeared from his Rochdale Road home in Bacup in July.
A dog walker found a leg behind Healey Conservative Club in Whitworth, near Rochdale, on Sunday.
The body has been there for some time and was badly decomposed.
Police said they have been in contact with Mr Nield's family.
Healey Conservative Club has declined to comment.