Newton Heath Islamic Centre bus arson: Men held over attack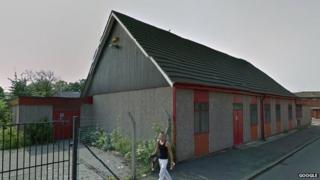 A man has been arrested on suspicion of arson over an attack on a Manchester Muslim centre's minibus which police said could have been a hate crime.
Police were called to the Islamic Centre on Regent Street, Newton Heath on 5 and 6 September over reports of two men stealing CCTV cameras and a minibus being set on fire.
The 34-year-old, from Eccles, was also arrested on suspicion of theft.
Insp Shan Nasim said the investigation into the attack "was far from over".
He said officers were "investigating the possibility that this is a targeted hate crime".
"We know for a fact there was at least one other person involved, so it is vital that we get potential witnesses to come forward with any information they may have," he added.
The two men involved in the attack were described by police as "black men, wearing black clothes and scarves covering their faces".