Robert Bleakley: Resignation motion passed over sex chat councillor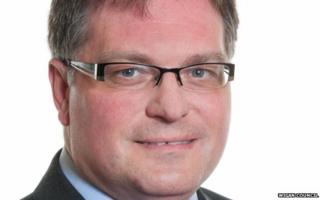 A motion has been passed calling for the resignation of a Wigan councillor who spent £2,500 on sex chat lines while using a council-issued phone.
Wigan Independents' Robert Bleakley was banned from speaking to female council staff after the bill was revealed.
At a full council meeting on Wednesday evening all but three members voted in favour of Labour councillor Terence Halliwell's motion.
Mr Bleakley has previously rejected calls for him to stand down.
He has also denied allegations of sexism.
Breached code
The Tyldesley ward councillor also maintained he paid the money straight back after the chat line charges on his mobile phone bill was highlighted.
But he is said to have brought the council into "disrepute for serious breaches" of its code of conduct.
The motion urging him to quit was put forward after a council investigation found he had also used the phone to send explicit text messages, which the Chief Executive Donna Hall said showed he had a "problem with women".
The motion proposed that it was the view of the council "that he should tender his resignation with immediate effect".
The standards committee found Mr Bleakley breached members' code of conduct for using his phone for personal use but the panel did not suspend him as a councillor.
His phone was removed with other IT equipment and his internet access was stopped. He must also attend equal opportunities training.
Councillors cannot force Mr Bleakley to resign because the government has abolished powers for local authorities to take action against councillors who breach their code of conduct.
A council spokesman said the motion was "designed to increase pressure" on him to quit.
The council had previously discovered Mr Bleakley had viewed pornographic material on his council-issued laptop and had deliberately altered an email to try to jeopardise a senior employee's job.