Driver jailed after fatal Moston bus stop crash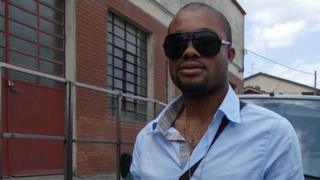 A drunk driver who killed a pedestrian when her car crashed into a bus stop in Manchester has been jailed for six years and four months.
Tracy Carrington, 51, of Routledge Walk, Harpurhey, lost control of her Toyota Avensis in Moston Lane on 2 August while she was disqualified.
Police said the force of the crash dislodged a metal pole in the ground and it struck Adam Uyiekpen, 32.
At Manchester Crown Court she admitted causing death by dangerous driving.
Carrington, who also admitted driving while disqualified, was banned from driving for life.
Mr Uyiekpen suffered serious head injuries and died at the scene.
A second man was also injured by flying debris but has since recovered.
Mr Uyiekpen's family said Carrington "deserved every second of the sentence".
They said: "Removing her from society can never bring Adam back, but it will protect the public from a dangerous individual.
"She deserves punishment for the grief and sorrow she has caused this family, a pain that we will have to live with for the rest of our lives."
Sgt Mark Thomas, from Greater Manchester Police, said: "By climbing into the car knowing she was banned, uninsured and completely unfit to drive due to being heavily under the influence of alcohol, she was placing her needs above the health and safety of innocent pedestrians.
"Sadly, Adam paid the ultimate price for her appalling behaviour."