Alan Henning: Locals react to 'Islamic State killing'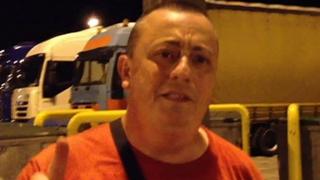 People from across Greater Manchester have reacted to a video purporting to show the murder of Salford aid worker Alan Henning by Islamic State militants.
The 47-year-old, who had worked as a taxi driver in Eccles, was taken hostage by the group in Syria on 27 December last year.
Mike Hyde, friend and fellow taxi driver
I'm in a state of shock and disbelief because I thought they would let him go. It had gone beyond that two week period that they usually did these terrible things and I thought 'there's a bit of hope here'.
Alan was a great guy, just a nice, normal man. We worked nights together and I always knew it was going to be a good shift if he was on, because he was a funny guy.
Last time I saw him, he was telling me [about his aid work] and all he was doing was helping babies, basically - he didn't deserve this at all.
Majid Freeman, friend and fellow aid worker
We've been trying our best to secure Alan's release and over the past weeks, we've been urging the government to do something to help him while they still could.
However, the government did nothing at all to help and they left him abandoned.
In Alan's case, [Islamic State] had him for three weeks after the release of the [first] video, which shows they may have been considering releasing him and they even let him send a message to his family.
The government did nothing to help him. Instead they voted for air strikes, which may well have sealed his fate.
Orlando Napolitano, friend and cafe owner
He would come in for coffee twice a day and we would chat. He's a nice guy, happy, cheerful.
He said he was going there to help these people who had nothing, refugees. He was happy to help.
That last trip I said, 'Alan, I think it is a bit dangerous' but he said, 'We don't go far in, just past the border'.
I said, 'Alan, you are going before Christmas. What about your family?'.
He said, 'That's what I love to do. When you give them goods, the kids are so happy and that's why'.
Dr Shameela Islam-Zulfiqar, friend and fellow aid worker
Alan's plight and his selfless character captured the hearts of the British public over the last few weeks and news of his murder has left us all enraged and distraught.
In the face of this atrocity, we all need to stand together as Muslims and non-Muslims. We should not let this divide us. This is what Alan would have wanted.
I feel that Alan was failed on two fronts; firstly by the inhumane actions of his captors that made a mockery of our emotions and appeals by showing utter disregard for the sanctity of life and the principles of Islam; and secondly by our government who we felt abandoned and failed to bring him back where other governments have clearly managed to do so.
By joining the US air strikes, we handed Alan and many other western hostages a death sentence.
Imam Asad Zaman
I was speechless and absolutely devastated when I was informed he had been killed. It felt like a friend had passed away or a family member.
We were so hopeful a few days ago when their own courts acquitted him and we thought he would be back with his family very soon.
The Koran makes it very clear - to kill one innocent human being is to kill the whole of humanity. I'm at a loss - I cannot see where these people are coming from, which book they are reading, because it is not the same Koran I have been reading for the last 35 years.
If he was involved in this conflict at all, it was to help alleviate the suffering of the victims of it, so how could anyone justify killing such a man?
Pastor Bill Green, Gateway Community Church in Eccles
Like everybody else, I'm devastated at the news and my heart goes out to Alan's family. I'm sure the whole of Eccles will be saying the same.
It's a tight-knit community of all faiths and people of no faith and they'll be devastated and I'm sure they'll be looking for answers for their own grief, especially the family.
And he was a great guy, you know to give up his time to go to a foreign land, and he just wanted to do something good for mankind and for his community.
Tony McNeill, Bolton Interfaith Council
We've been in limbo ever since all this business started and I didn't honestly believe that they would take his life. I thought there would be some type of leadership [in Islamic State] who would say taking Alan's life was a step too far.
Our thoughts are with his family and the community - and with Alan's Muslim friends, because this has put a great smear on the whole religion.
All the local Muslim communities have spoken out against it and I'm sure they will totally disown what is going on.
The Right Reverend Dr David Walker, Bishop of Manchester
Our prayers and our thoughts have been with the family of Alan Henning over these last weeks, during which his life has been so publicly threatened. Today those thoughts and prayers are redoubled, not only here in his home city of Salford but across the globe.
In his life, Alan Henning united people across the boundaries of nationality and faith. He did so both through his humanitarian actions and by the love that drove him on. That his tragic death continues to unite people across Britain and beyond is demonstrated today by the range of people and organisations paying him tribute.
To Isis we say: You no longer have the power to shock us, now you just sicken us. Your brutality, against any who don't share your narrow, perverted world-view, doesn't undermine our determination, it stiffens our resolve. Your destiny is not to be a force in human history, merely one of its sad footnotes.
The Right Reverend Terence Brian, Bishop Emeritus of Salford
It's very, very tragic and just beyond comprehension how anyone can think they are so right and commit an act like this.
Our thoughts and prayers are with his family and friends at this most tragic of times.
Barbara Keeley, MP for Worsley and Eccles South
I was starting to feel a little bit more optimistic about Alan, because it was so long, because there were all the pleas, because he had not been found guilty [of being a spy] under Sharia law - there was a strong compassionate case to release Alan.
Alan's family are in midst of their terrible grief but at least they know Alan is at peace and he can't be hurt any more.
This community pays tribute to Alan Henning - he was a decent man trying to do the right thing and was away from his family for very good reasons.
Tony Lloyd, Greater Manchester Police and Crime Commissioner
Our thoughts are with his family and circle of loved ones at this terrible time. What they are going through is unimaginable. All we can do is express our sympathy and pledge to remember Alan for what he was - a thoroughly decent man and the kind of quiet humanitarian who makes this world a better place.
This is murder, plain and simple. That it could be claimed to be in the name of religion is obscene and all people of faith will abhor this brutal act of cowardice.
Alan Henning will not be forgotten - he made a difference to people's lives and while the world is a little darker today, his commitment to the cause of humanity will last longer and burn brighter than the supposed cause of the evil men who took his life.
Manchester Council of Mosques
Alan Henning was our local and national hero. We will remember him as a tireless and selfless humanitarian aid worker whose only concern was to help people in need.
We send our heartfelt condolences to Alan Henning's family at what must be an unbearable time.
The killing of Alan Henning was a cowardly and criminal act of appalling brutality by a group who do not represent Islam at all and in fact are an insult to the Islamic faith. The killing of Alan Henning marks the beginning of the end of this group. We now call for justice to be carried out on the killers of Alan Henning.
We also make clear that the killing of Alan Henning should not be used by individuals and groups in positions of authority or otherwise to defame the religion of Islam or further tarnish the positive image of Muslims for the crimes of a tiny minority of brutal killers.