Bury man stabbed after chasing stone-throwing teenagers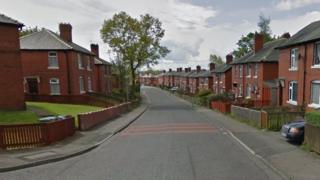 A man has been stabbed 15 times in a Bury street after chasing teenagers who were throwing stones at his house.
Police said the 22-year-old man was attacked with a stick after he asked the group to stop attacking his house on Kingfisher Drive at about 01:30 BST.
The man, who was stabbed after chasing the youths down the road, is "lucky to be alive", police have said.
Three boys, two aged 15 and one aged 17, and an 18-year-old man have been held on suspicion of attempted murder.
Police said the victim was in a serious but stable condition in hospital.
Det Sgt Lawrence Dixon said when the man "confronted the group and gave chase, he was set upon and stabbed numerous times".
"His injuries are serious and he is lucky to be alive."
He asked anyone who witnessed the attack to contact police because "although we have made arrests, we are still investigating".