PC Fiona Bone's father opens care facility named in her honour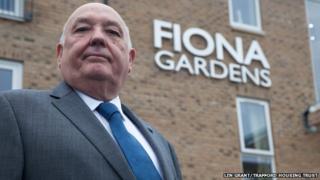 The father of a police officer who was murdered while on duty in Greater Manchester has opened a residential care facility named in her honour.
PC Fiona Bone died alongside PC Nicola Hughes when they were called to what appeared to be a routine burglary report in Mottram in 2012.
Paul Bone opened Fiona Gardens in Sale, his daughter's home town, on the second anniversary of her funeral.
Mr Bone, who lives on the Isle of Man, said it was a "fitting tribute" to her.
"Fiona carried out her Duke of Edinburgh Award service in a home for the elderly and she continued to care for people by joining the police," he said.
"She often said the most enjoyable part of her job was helping people and therefore this development is a fitting tribute to her memory.
"We were honoured to be asked to have Fiona's name associated with this facility."
Mr Bone was joined by his wife June, daughter Vicky and Fiona's partner Clare Curran for the opening ceremony.
The Trafford Housing Trust care facility comprises of 71 apartments and will provide care for elderly and vulnerable people.
The trust's chairwoman, Edna Robinson, said: "All the residents and staff feel honoured that they live and work at a place named in memory of such a warm-hearted and caring individual".
"Today has therefore been a mixture of sadness and celebration in equal measure," she said.
Dale Cregan was jailed in 2013 for the murders of PCs Bone and Hughes, along with those of father and son David and Mark Short.
He was given a whole-life sentence for what the presiding judge described as "premeditated savagery".