UKIP claims Labour seats 'not safe' in northern England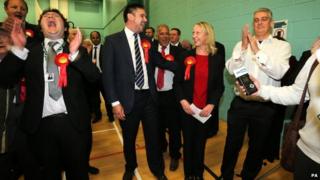 Labour seats in the north of England are "not safe" after the party won the Heywood and Middleton by-election by 617 votes, the UKIP candidate claimed.
John Bickley said Labour "scraped home" to win a seat it took with a majority of 5,971 in 2010.
New Labour MP Liz McInnes was "not disappointed" by the reduced margin and plans to rebuild community relations after "fighting for every single vote".
Local Tory leader Ashley Dearnley said the party had "loaned voters" to UKIP.
In Clacton, Douglas Carswell became UKIP's first elected MP in a by-election prompted by his defection from the Conservative Party.
Mr Carswell knocked his old party - which won with a 12,068 majority at the 2010 election - into second place. He took the Essex seat for UKIP with a majority of 12,404 votes.
In Heywood and Middleton, the swing from Labour to UKIP was 18% in a constituency which has been a Labour stronghold since it was created in 1983.
---
| | | | |
| --- | --- | --- | --- |
| Party | Candidate | Votes | % of votes |
| Labour | Liz McInnes | 11,633 | 41 |
| UKIP | John Bickley | 11,016 | 39 |
| Conservative | Iain Gartside | 3,496 | 12 |
| Liberal Democrat | Anthony Smith | 1,457 | 5 |
| Green | Abi Jackson | 870 | 3 |
---
The by-election in the Greater Manchester constituency was prompted by the death of long-serving Labour MP Jim Dobbin, 73, last month.
'Sleepless nights'
UKIP candidate Mr Bickley said: "The Labour Party shouldn't have to get out of bed to win a seat like this.
"They have thrown the kitchen sink at this and they have only just scraped home."
He added: "They've got to be having some very sleepless nights now because in the north of England they are not safe."
Ms McInnes said: "I'm not disappointed that the majority has been reduced. I knew this was going to be a tough fight.
"We have run a really strong, positive campaign and we fought for every single seat.
"I am proud and honoured to have been selected as the MP for this area," she added.
Mr Dearnley, who leads the Conservative group in the area, said: "I think the real disaster is for the Labour Party to almost lose a seat that they held for all these years with massive majorities.
"To come within 600 of losing, it proves as we all know now, no-one has any confidence whatsoever in Ed Miliband and the Labour Party."
He claimed Conservative voters at the by-election had "loaned their vote to UKIP as a one-off".
"It's a protest vote this time, those people will come back to the Conservative Party at the general election," he said.
Thirty-six per cent of the electorate turned out to vote in the Heywood and Middleton by-election, which saw the Conservative Party fall to third place, the Liberal Democrats to fourth place and the Green Party to fifth.
In 2010, Labour won with 40% of the votes, the Tories came second with 27.09% and the Liberal Democrats third with 22.65%.
UKIP came fifth in the 2010 election, which had a turnout of 57.69%, with 2.63% of the votes.