Government will not pay Barton Moss fracking demo cost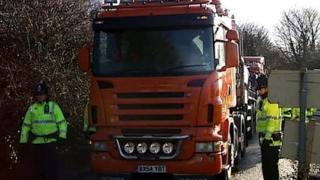 The £1.7m cost of policing anti-fracking demonstrations in Salford will not be met by the government, the Home Office has said.
Greater Manchester Police crime commissioner Tony Lloyd had argued it put an extra burden on the force.
But the Home Office has rejected this application stating that it did not meet its funding criteria.
About 60 officers a day were needed to police demonstrations in 2013 over exploratory drilling at Barton Moss.
IGas's drilling operation ended at the site earlier this year.
'Savage cuts'
Deputy Police and Crime Commissioner Jim Battle said: "We are very disappointed that the home secretary says she will not pay for the cost of this policing operation.
"When the government puts forward contentious issues like fracking it needs to factor in the possibility of protest and its associated costs. It is disgraceful that the people of Greater Manchester are expected to carry the burden of the cost of policing this operation."
Mr Battle said the PCC would be contacting the Home Secretary Theresa May, "demanding, again, that the cost of this operation is met from central government funding rather than from our local policing budget, which has already been subject to unprecedented, savage, cuts."
GMP argued that a only a quarter of the people arrested in the protests earlier this year were from Greater Manchester, while others came from places such as Kent, Bristol, Somerset, Lincolnshire, Lancashire, Southsea and Sussex.
Policing Minister Mike Penning said: "Special grants can be provided for police forces facing unexpected or exceptional costs. However, forces should include within their budget plans reasonable contingencies for unexpected events.
"A special grant will be considered once the costs reach 1% of the force budget. Policing the Barton Moss anti-fracking protests did not meet this requirement."