M62 crash chicken-saving pair honoured by IFAW for dog rescues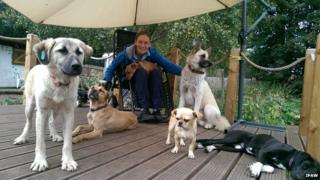 Two women who saved hundreds of chickens from a motorway crash have been honoured for their work rehoming mistreated dogs from abroad.
Emma Billington and Louise Fields rescued the birds after a lorry transporting them hit a safety barrier on the M62 near their house in May.
The pair run a dog crèche in Sharston, Manchester which funds their work bringing dogs from Bulgaria and Cyprus.
That work has won them an International Fund for Animal Welfare (IFAW) award.
Working with charities Bulgarian charity Twitchy Noses and Cyprus Dog Rescue, the pair have rehomed almost 100 dogs in their first year, many of which had been severely mistreated.
The animals are put into foster homes, neutered and vaccinated before being sent to the UK.
Once they arrive, the pair foster up to 20 dogs at a time, keeping them at the dog crèche during the day and their home in Eccles, Salford, overnight before they are eventually adopted.
'Happy ending'
Ms Billington said she had always wanted to rescue dogs in need.
"It has been a passion since I was a child," she said.
"The hardest part is looking at the pictures of the dogs overseas and having to decide which ones we think we can save and which we can't.
"But seeing them rehomed and happy is the nicest part of the job and makes it all worthwhile."
She added that even the chickens they saved but not yet rehomed had helped, as "we sell the eggs to fund the dog rescue".
Ms Fields said the award was "fantastic recognition for us as we approach our first anniversary and just what we need to show how you can have a happy ending."
IFAW president Azzedine Downes said the pair's devotion was a "great example of animal welfare in action" and that they were very deserving winners of IFAW's Dog Rescue Award.
The pair picked up their award at a ceremony at the House of Lords.