Cannabis lamps to grow grass at Rochdale football pitch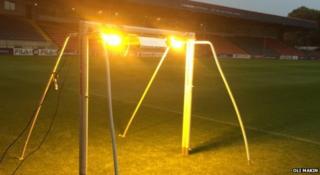 Heat lamps seized by police in drugs raids on cannabis farms are being used to cultivate the grass at Rochdale's football ground.
The lights have been mounted on special rigs at Spotland, the home of League One team Rochdale AFC.
Head groundsman Oli Makin said heat from the lamps will improve the turf around the goal mouths and the tunnel.
He said the idea came about after discovering Notts County FC had used confiscated lamps.
The lights heat up the soil and replicate warmer conditions which helps the grass grow.
Mr Makin said the lights, which would have cost the club between £20,000 and £30,000, were donated by Sgt Andy Fern of Greater Manchester Police.
The 24-year-old groundsman said it would make a "massive difference" to the pitch particularly as Spotland stadium is also home to Rochdale Hornets rugby league club.
"It gets a lot of wear and tear in winter because there are football matches on Saturdays and rugby on Sundays."
He said: "I can't thank police enough."
"It has saved the club a fortune and the players will be happy, especially the goalkeeper."