Man beaten with bricks in 'horrific' Salford street attack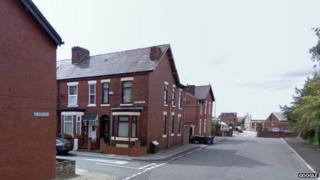 A man was beaten with bricks by up to eight men in Salford and left with a fractured skull, police have said.
The 33-year-old was found unconscious in a walkway between the M602 and St Luke's Road in Weaste just before 22:50 BST on Monday.
He suffered multiple fractures and lost a number of teeth in what police described as an "horrific beating".
A spokesman for Greater Manchester Police said it was a "targeted attack" but the motive was "unclear".
The man was accosted by the men on St Luke's Road and attacked between there and where he was found, he added.
Someone called for an ambulance using the victim's phone and police want to speak to that person and any other witnesses.
Det Sgt Julie Connor said it had been "an horrific beating [and] to say the level of violence used was excessive would be a considerable understatement".