Jade Anderson inquest: Coroner calls for dog licences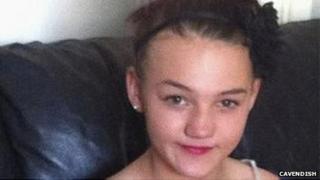 A coroner has criticised dangerous dog laws and called for dog licences to be reintroduced after a 14-year-old girl was savaged to death.
Jade Anderson was attacked by four dogs at the home of a school friend in Atherton, Greater Manchester, in March last year.
Coroner Alan Walsh said the problem was not specific breeds, but the control of dogs in general.
He said he would ask the government to consider the licensing of all dogs.
Mr Walsh was speaking at the conclusion of the inquest into the death of the schoolgirl.
Recording a narrative verdict, he said she died as a consequence of injuries sustained when she was attacked by more than one dog.
'Jade's law'
Jade was at a sleepover at her friend's house when she was attacked.
The dogs' owner, Beverley Concannon, later admitted causing suffering to the four animals, and was given a 16-week suspended jail term.
The Crown Prosecution Service ruled there was "insufficient evidence" to bring a charge of manslaughter by gross negligence against Concannon.
It was also not possible to bring charges under the Dangerous Dogs Act, because her animals were not banned breeds and were not out of control in a public place.
Amendments to the Act, which came into effect in May, extended owners' responsibility to controlling dogs on private property, and were introduced partly a result of the Jade Anderson case.
Mr Walsh said the changes were a step in the right direction but did not go far enough. He suggested a campaign for a "Jade's Law" to toughen controls on all dangerous dogs, not just dangerous breeds.
He also called for the reintroduction of dog licences, which were abolished in 1987.
Jade had been friends with Concannon's daughter, Kimberley, and it was at their family home where the attack took place on 26 March last year.
'Catastrophic tragedy'
The inquest heard she was savaged "from head to toe" by the dogs in the kitchen, after Kimberley had gone next door to warm a pie up for her friend in a neighbour's microwave.
Kimberley returned to find Jade in the kitchen. She was pronounced dead at the scene.
The dogs, two large mastiffs called Buddy and Neo, and two Staffordshire bull terriers, Ty and Sky, were never taken for walks and "terrified" neighbours, the court heard.
It is believed Buddy broke out of a cage he was kept in, before the troubled animals began their attack.
They were later shot dead by police.
Mr Walsh said: "I believe Buddy got out of the cage and once out the dogs would have acted in a pack-like way and it is likely that's how Jade suffered her injuries.
"The terror and fear she would have suffered for that short time would have been quite unimaginable."
He praised the "dignity" of Jade's family during the hearing, adding: "You have my heartfelt sympathy. I said Jade's death was a catastrophic tragedy of the most extreme proportions. I believe that."