Manchester streets taken over by zombies for charity event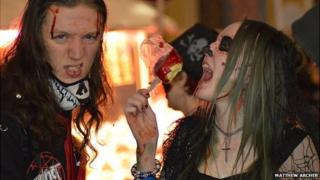 Hundreds of "undead" have filled the streets of Manchester for a charity event thought to be one of the biggest zombie-themed spectaculars in the world.
Manchester's annual Zombie Walk sees hordes of zombies taking the opportunity to parade through the city.
This year's event will raise money for the mental health charity MENCAP.
Beginning at The Printworks leisure complex, the event was expected to attract more than 1,500 people.
Most arrived in their own grizzly fancy dress costumes, although professional makeup artists were also on hand to help design a host of different zombie characters.
The event runs throughout the evening and sees zombies wandering out across the city centre.
Carl Whiteley, one of the event's organisers at The Printworks, said: "It's fantastic fun and the artwork and costumes are amazing. We're expecting large crowds and the atmosphere should be great."
The event also features a range of stalls, food and games.