Rochdale Council approves £4m plan to uncover medieval bridge in town centre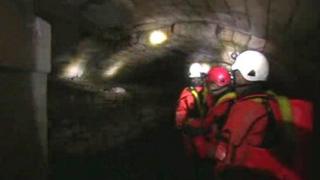 A £4m project to reveal a "significant part of Rochdale's history" has been approved by the town's council.
The scheme to uncover a medieval bridge, hidden in a culvert near the town hall, was passed at a council cabinet meeting on Monday.
Council leader Richard Farnell said the proposal was looked at "line-by-line" in order to trim its cost from £5m.
A council spokeswoman said a bid would be made to the Heritage Lottery Fund (HLF) for part of the funding.
The bridge was built in the 13th or early 14th Century "so merchants could get their wool over the River Roch and flog it to those good people in Yorkshire", Mr Farnell said.
The river was covered by what is believed to be one of the widest bridges in Europe in stages between 1905 and 1928, as the town centre developed.
Mr Farnell said some of the original plans had been dropped because the section they applied to, near South Parade, "had no architectural or historical significance whatsoever".
"By doing that and making other changes to the scheme, we lopped £1m off the cost."
If the council is successful in its bid to the HLF, work will begin in February 2015 with a planned completion date of November the same year.