Land Rover crashes through Bolton Dog and Partridge pub wall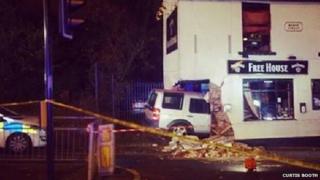 A man has been arrested after a Land Rover smashed through the wall of a pub, coming to a stop in the bar.
The landlord of the Dog and Partridge in Bolton said the vehicle stopped just where he had been standing before going outside for a cigarette moments before.
Police said no-one was injured in the crash and the driver was held on suspicion of driving offences.
The vehicle has been removed from the building in Manor Street and engineers were carrying out structural tests.
Landlord Neil Piper said: "I now have an eight foot by eight foot hole in the corner of the building.
"The driver walked out without a scratch. It's amazing how nobody got hurt because the vaults is one of the most popular rooms in the pub, it's where the regulars stand or sit.
"If there would have been anyone in that room today they would have been killed."
The crash happened at about 17:55 GMT.