Greater Manchester child sex exploitation report 'doesn't go far enough'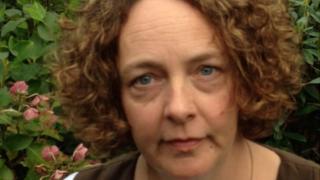 A report about child sexual exploitation in Greater Manchester "doesn't go far enough", a former NHS worker who raised concerns has said.
Sara Rowbotham said the "specific nature" of groomers needs to be explored further following the publication of Real Voices.
She criticised the report for excluding support for children whose disclosures did not result in prosecution.
The report's author Ann Coffey said exploitation was an "ongoing problem".
Ms Rowbotham said she made about 300 alerts to police and children's social services about child sexual exploitation in Rochdale between 2003 and 2013.
The sexual health specialist said: "I don't think this report is enough, I don't think it goes far enough.
"I don't think it goes deep enough, I don't think it really uncovers the complexity."
'Worst horror'
She said the report is "missing" details about how child abuse victims are cared for to improve the "outcome for that child or young person".
"Unfortunately some of the girls... who I worked with they're dead or they're in prison or they're addicted to substances," she said.
Real Voices found there were about 1,000 convictions from 13,000 cases over six years.
It recommended a review of No Further Action cases in the past year to examine the reasons behind the decision and find "areas for learning and training".
Ms Rowbotham said it was "important" for police to use data in those cases but said Ms Coffey makes "no mention at all to further support" a child whose abuse did not lead to prosecution."
She said: "I think some of the abuse was different... Those elements about the specific nature of that abuse has to be explored further if we're really going to protect girls away from exploitation we really have to have that conversation about that abuse."
Ms Rowbotham spoke out about grooming at a committee of MPs in 2012 and was later made redundant.
The Real Voices report was commissioned by Greater Manchester Police and Crime Commissioner (PCC) Tony Lloyd to assess the improvements in protecting youngsters after nine men were jailed in 2012 for running a child sex ring in Heywood and Rochdale.
It found changes had been made, including a specialist team being set up by Greater Manchester Police.
The report has made a number of recommendations including appointing a child sexual exploitation "champion" to work with police, councils and young people.
It also calls for members of the community to be trained to spot signs of abuse and to develop a strategic approach to tackle the issue, like those in place for smoking, obesity, alcohol and drug abuse.
Ms Rowbotham said: "They were children, they were just girls, and a horror came their way in the most disgusting way.
"I did report it, I told everybody, everybody knew how angry I was and how upset I was and how annoyed I was with the world, with people who dismissed me or blamed me."