Wythenshawe 'western loop' Metrolink tram line to be proposed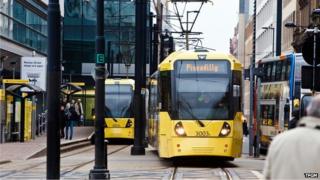 A new Greater Manchester tram line linking Manchester Airport with Wythenshawe Hospital is to be proposed.
BBC Radio Manchester has learned local politicians will start lobbying the government for a Wythenshawe "loop-line" after the general election.
The new line would link up with a proposed new railway station for HS2.
Andrew Fender, chairman of Transport for Greater Manchester, said it featured "very much in their plans to build the western loop".
A proposed Metrolink route to Wythenshawe Hospital was axed in 2005 due to funding problems.
'Fantastic facility'
Mr Fender said: "We've always planned on building the western loop as it's known, but the fairly recent announcement of the alignment for the proposed HS2 link from Birmingham to Manchester will go very close to the [M56] motorway and it would cross the point where the western loop would be going to."
He added it would "provide that extra connectivity and justification for having the HS2 station in that location".
Mike Kane, Labour MP for Wythenshawe and Sale East, said it would be a "fantastic facility".
He said: "It is very feasible that we could build a line from Manchester Airport over Thorley Lane Bridge, over the M56, link the potential HS2 station at Davenport Green and bring it back round to the hospital on Moor Lane."