SuperJosh: Tributes to brain charity 'hero' Joshua Wilson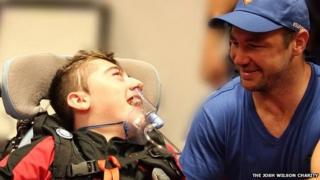 Tributes have been paid to a 14-year-old boy who died after long-term difficulties following brain surgery.
Joshua Wilson, nicknamed SuperJosh, was aged three when a life-saving operation on a brain tumour left him with terminal disabilities.
A brain tumour charity set up in his name drew high-profile supporters from sport and TV.
His parents said they were "immensely proud" of Joshua who died at their Bury home on Monday evening.
Colin Wilson and Dawn Fidler said they were "devastated" but praised Joshua's "strength and determination to make everyone around him happy".
"We are missing him so much already but he's sleeping peacefully now and no longer has to suffer the pain and discomfort he's lived with for so many years," they added.
After his operation, Joshua was unable to communicate verbally but used facial expressions and the thumbs-up sign.
His parents said his charity for children with brain tumours and post-surgery disabilities had been "a massive drive to keep him going since we were first told he was passing last Christmas".
The Joshua Wilson Brain Tumour Charity was boosted last year when the cast of ITV's Scott and Bailey joined Greater Manchester Police (GMP) for a YouTube appeal, featuring police officers dancing to Gangnam Style.
GMP chief constable Sir Peter Fahy, said he was proud to be a patron of the charity, adding Joshua had made "a huge impact in a short life".
"He challenged your view of mental and physical disability because of his great love for life and the way he reacted to things around him," he said.
The teenager was also a fan of rugby league club Salford Red Devils, who tweeted: "The club was truly blessed to have crossed paths with a true superhero. We'll never forget your smile."
Sacha Lord-Marchionne, co-founder of The Warehouse Project nightclub and patron of the charity, added Joshua "put more smiles on faces than I could ever in a full lifetime... He really was a Superhero."