Arrest after drone flown over Heaton Park fireworks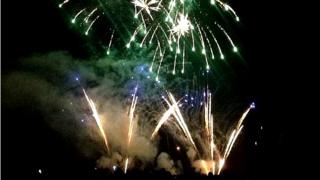 A man has been arrested on suspicion of flying a drone over a Manchester fireworks display which attracted more than 30,000 spectators.
He was held after the flying remote-controlled camera device was spotted over Heaton Park on Wednesday night.
Due to safety concerns, it is illegal to fly drones above crowds of at least 1,000 unless permission is granted by the Civil Aviation Authority.
The 50-year-old man has been released on bail pending further inquiries.
'Consider the environment'
He was arrested on suspicion of breaching the Civil Aviation Act.
Ch Insp Sean Hogan said: "These aircraft can weigh upwards of 22lb (10kg) and the potential for injury when flying such a vehicle over a crowd of more than 30,000 people in the pitch black and in close proximity to fireworks is substantial."
A woman arrested for obstructing officers was later de-arrested after police decided to take no further action.
"We are not trying to discourage people from flying such aircraft, but ask that if you wish to do so, to consider the environment they are used in, the safety of other people and the laws governing their proper use," Mr Hogan added.
Heaton Park is Manchester's biggest green space and its annual fireworks display regularly attracts thousands of people.