Dwaine George: Forensic 'doubt' over fatal shot conviction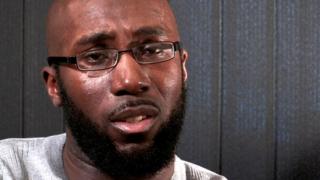 Forensic evidence that helped jail a man for murder might not have secured a conviction under modern standards, the Court of Appeal heard.
Dwaine George, 31, from Manchester, is seeking to overturn the 2002 conviction for which he served 12 years in jail.
George was jailed for his involvement in the fatal shooting of Daniel Dale, 18, in Manchester, in 2001.
Sir Brian Leveson, who heard the appeal with Mr Justice Green and Mr Justice Goss, reserved judgement.
George's case is the first to be referred directly to the Criminal Cases Review Commission (CCRC) by an "innocence project" in which university law students work alongside students from other disciplines to examine alleged miscarriages of justice.
James Wood QC said modern forensic analysis cast doubt on the safety of George's murder conviction.
'Gunshot residue'
Mr Dale had been due to give evidence in a stabbing trial when he was shot in Miles Platting in 2001 and found collapsed in an alleyway off Farnborough Road.
A key strand of the prosecution case centred on analysis suggesting there was gunshot residue on George's jacket.
But Mr Wood said there had been a major change since the conviction in the way such evidence was analysed.
The amount of material found would not now be considered enough to prove he had been close to a gun which went off.
"The nature and number of particles recovered from the jacket were firmly asserted to consist of four particles of gunshot residue," the QC told the court.
"In fact, it could only actually be said that there were two. The current interpretation for two is, in effect, that they are neutral."
He argued that "undue weight" was given to the particles' evidence during the trial.
Sir Brian said he would give judgment at a later date.