Manchester City Council set to axe 600 posts for save £59m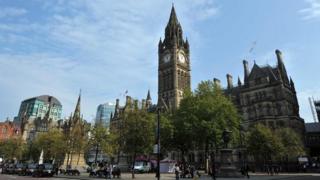 Manchester City Council is to cut about 600 full-time posts as part of plans to save £59m because of funding cuts.
Its largest directorate, dealing with children and families, includes social services and faces the biggest single cut over the 2015-2016 period.
Draft proposals include reducing the number of children going into care and reducing school crossing patrols.
A government spokesman said there was "great scope" for the council to make "sensible savings".
About 3,000 posts have been lost since 2011 to help meet cuts of £250m.
'Unfair share'
The Labour-run council says its total budget for all services has been cut by almost 40% since 2010, with further cuts of £91m predicted for 2016-17.
Council leader Sir Richard Leese complained that Manchester had been disproportionately hit.
He told BBC Radio Manchester's Breakfast programme: "The more deprived areas and Manchester - not withstanding its economic success, is still one of the most deprived local authority areas in the country - are taking an unfair share of the cuts.
"We've calculated over the first four years of the cuts that if we'd had the average cut, nationally, we'd be £55m a year - £1m a week - better off."
Local Government Minister Kris Hopkins said: "Since 2010, this government has delivered a fair funding settlement to every part of the country.
"Local authorities have continued to balance their budgets, keep council tax down and maintained public satisfaction with services.
"Manchester continues to receive some of the highest funding in the country, with Manchester spending £2,518 per household this year, which is over £400 more than the average across England."
---
Manchester City Council's saving options include:
Providing care and support closer to people's homes to prevent admissions to hospital or residential care saving about £8.3m
Spending could be reduced on mental health services, focussing on early intervention and supporting people into work
Ending free swimming for over-60s and under-16s, saving about £70,000 a year
Reducing funding for youth services and targeting young people and neighbourhoods most in need
Reducing short breaks for parents and carers of children with disabilities
Working more with organisations such as Jobcentre Plus, health and mental health teams to support families and people
Reducing library funding for books, digital and other materials to save £100,000-£200,000 a year
---
The council is aiming to avoid compulsory redundancies, with jobs being lost through voluntary options and early retirement.
Councillor John Flanagan, executive member for finance, said: "No-one is pretending that there isn't a very difficult balance to strike and we value the views of Manchester people on how we should manage it."
Unison branch secretary Evelyn Doyle said it was "likely that Manchester's budget reduction will be amongst the worst 10 across the country".
"The cuts will impact on all service users, especially vulnerable people, as access to key services for the elderly, the young and disabled will be reduced.
"A context of further slashed budgets makes the future of combined health and social care provision more difficult, and the staff who remain in post after the job cuts will face increased pressure and workloads."
Mike Wild, who represents MAC - an umbrella group for about 3,000 Voluntary and Community groups in Manchester, told BBC North West Tonight: "There's a lot of anger; they have already been hit hard and there is a danger some will disappear."
Reports on proposed savings will be presented to the council's executive on 26 November, ahead of a public consultation.