Gucci and Prada handbags among 45 stolen in 'six-figure' house burglary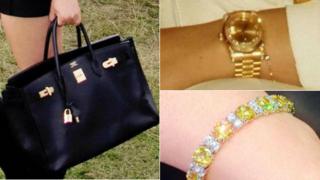 Burglars have stolen items worth at least £100,000, including 45 designer handbags, from a house in Manchester.
The bags, along with Cartier watches and earrings, were stolen from a home on Barlow Moor Road in Didsbury on Monday evening.
Det Sgt Paul Jackson said the price of the items, which included Gucci and Prada bags, made it a "six-figure high-value robbery".
He said the owners had been collecting them for years and were "devastated".
There were no descriptions of those involved in the burglary, he said, but "from what we have been told, we believe the offenders [were] waiting outside".
"[We] believe there may have been four of them... and we are in no doubt they have been meticulous in their planning."
Anybody with any information is asked to contact police.