Mobility scooter ban on Manchester Metrolink trams lifted after trial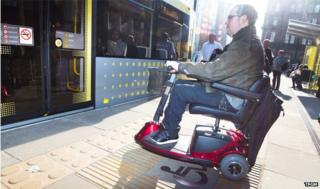 Manchester Metrolink has agreed to allow mobility scooter users on its trams after a seven-month trial.
When services started in 1992 they were not allowed on board, but this ban was only enforced after 2010 when a scooter drove off a platform on to the tracks.
Now, after a four-year campaign, users can travel if they have a permit that can be obtained after an assessment of the scooter's size and manoeuvrability.
Shopmobility Manchester's Noreen McCole said the trial had been a "success".
The charity has worked with Transport for Greater Manchester (TfGM) to assess mobility scooter users.
'Tears of joy '
They have issued more than 80 permits since the trial started at the end of March.
"On many occasions we have witnessed tears of joy when we have issued a scooter permit," she said, "as many people have felt so isolated as they could not get out and about before.".
Colin Pilcher, from Harpurhey, said he had been unable to visit many places due to the previous ban, and said his permit offered a "new lease of life".
"Moreover, for the first time ever this year, I will be able to go to the Christmas Markets and I can't wait," he said.
Councillor Andrew Fender, from TfGM, said: "This has been a very important process and the feedback we've had from permit holders has been incredibly positive, so I'm delighted we've now been able to make it permanent."