Shelagh Delaney fans given a taste of honey in Salford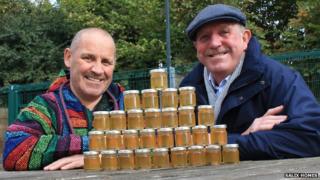 Fans of Salford playwright Shelagh Delaney are to get a taste of local honey as part of a day celebrating her work.
Kersal Vale Beekeepers have produced commemorative pots to mark the first Shelagh Delaney Day on 25 November.
The honey will be handed out to visitors to Salford Arts Theatre on what would have been the late playwright's 76th birthday.
Delaney wrote her most famous play, A Taste of Honey, when she was just 18.
It won acclaim for its taboo-breaking depiction of working-class life in post-war Salford and was later turned into a film starring Dora Bryan and Rita Tushingham.
The pots will also be given to guests at a community awards ceremony, run by housing provider Salix Homes.
The awards will feature a Shelagh Delaney Creativity Star category for the first time.
Salix Homes chief executive Sue Sutton said they had commissioned the pots as "a really fitting tribute" to the playwright.
She added Shelagh Delaney Day would be a chance for the local community to "come together to celebrate Shelagh's life and work".
"It's just fantastic that she is finally getting the recognition that she deserves."
The day will feature a re-enactment of a scene from A Taste of Honey, a Shelagh Delaney-inspired art exhibition and a screening of the film Dance With a Stranger, for which she wrote the screen play.
Delaney, who died in 2011, wrote for film, TV and radio and her image appeared on the cover of The Smiths' 1987 album Louder Than Bombs.