Mobberley land dispute judge 'baffled' by £500,000 case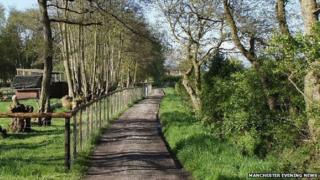 A senior judge has expressed bafflement over a £500,000 land dispute between neighbours in Cheshire.
It follows an appeal from a couple, who breed alpacas and wallabies, against a court ruling that their neighbours own a ditch between their Mobberley homes.
The neighbouring families have spent "£200,000 apiece", a barrister told London's Appeal Court.
Lord Justice Bean commented: "I imagine that the disputed right of way is worth rather less."
The two homes were originally part of one parcel of land, which was divided and then sold off in 1950.
'Animals disturbed'
Alpaca breeders Adrian and Joanne Hodgson say their neighbours are "breaking the law" by driving over the ditch and down a track between their properties, as a shortcut to Wilmslow.
They also claim the vehicles disturb their animals.
However, Manchester County Court ruled last December their neighbours Richard and Heidi Gilks owned the whole ditch, with their boundary in the middle of the track.
This allowed the couple, who moved to their home in 2004, the right to drive over the ditch and on to the track.
But the Hodgsons are now challenging that decision, saying their neighbours' land boundary reaches only halfway across the ditch and so Mr and Mrs Gilks are legally blocked from crossing on to the other half in a vehicle.
Claiming the Gilkses have no right to drive over the ditch without their neighbours' permission, Mr and Mrs Hodgson's barrister Caroline Hutton told the judges: "Driving vehicles on a bridleway is a criminal offence, unless they could prove they had the consent of the land owner."
'So special?'
Outside court, she said the relationship between the neighbours "was fine when they [Mr and Mrs Gilks] first moved in".
She said the relationship "fell apart" after the Gilkses objected to a planning application lodged by the Hodgsons.
Lord Justice Bean asked the court: "What is so special about it?"
Later revealing his dismay at the the protracted feud, he said: "This case is about a patch of land a few feet either way. What are the costs in the case so far? Half a million?"
The couples' homes are in an area known as Cheshire's "golden triangle", in which residents include Premier League footballers such as Wayne Rooney and Joe Hart.
Following the three-day appeal hearing, the judges reserved their decision until a later date.