Northern Uproar guitarist Jeffrey Fletcher remembered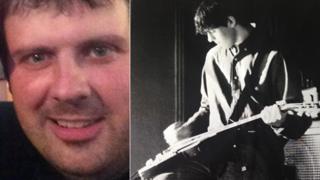 A Britpop guitarist who died when he was hit by a lorry in Stockport was "talented and very, very funny", his bandmates said.
Jeffrey Fletcher, a founding member of Northern Uproar, was killed instantly on Wellington Road at about 14:45 GMT on Monday.
In a statement, the band said: "Our Jeff would not believe the amount of love and concern everyone is showing."
The 36-year-old's family said he had been a "loving, caring, gentle giant".
Writing on Facebook, the band said many of those who met Fletcher agreed he was "a gentleman, talented and very, very funny".
"Our thoughts and love to Jeff's family," they said.
'Outpour of love'
Northern Uproar formed in 1995 and produced two albums, which spawned the hit singles From A Window and Livin' It Up, before they initially disbanded in 1999.
Since reforming in 2006, they have performed live regularly and recorded two more albums.
Fletcher's family said he would be remembered "for his love of music, his talent on lead guitar and, most of all, his infectious laugh".
"The outpour of love and wishes from friends old and new shows us how loved he has been and this is a comfort," they added.
"We cannot comprehend the fairness of a loss of someone who had such success as a young man to have had his life cut so short in such a tragic and sudden way.
"He will be dearly missed by all that knew him."
A police investigation into his death is continuing, but no arrests have been made.