Manchester's 'Dutch-style' cycle lanes on Oxford Road revealed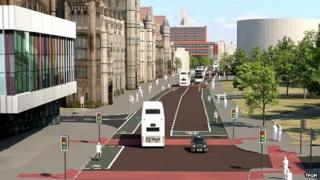 A vision of "Dutch-style" cycle lanes on one of Manchester's busiest roads has been unveiled.
The Oxford Road plan will see the segregated lanes teamed with a bus priority corridor and a ban on general traffic between 06:00 and 21:00.
Transport for Greater Manchester (TfGM) chairman Andrew Fender said it would "revolutionise sustainable travel".
The road is one of Europe's busiest bus routes, with over 100 buses using it every hour.
In the Netherlands, many roads feature segregated cycle paths running alongside, with cycling being banned from roads where the separate lanes are available.
Mr Fender said the plan was about "speeding up bus journey times and improving cycling".
He added that "pedestrians using Oxford Road would benefit from wider footpaths and safer crossing points along the route".
The plan will see only buses, hackney cabs, bicycles and emergency vehicles allowed to use the road during the day.
Before any changes are made to Oxford Road, a TfGM spokesman said Princess Street will become two-way between the Mancunian Way and Major Street to provide a direct route into and out of the city centre for all road users.
That process will begin with TfGM applying to Manchester City Council to change parking, loading and waiting restrictions on the route in December.