WW2: Winifred Roberts' Bletchley Park work cracking Enigma code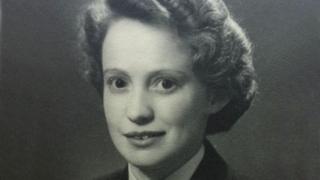 Winifred Roberts was 25 when she was plucked from a Salford battery factory and plunged into the top secret world of Bletchley Park, where mathematician Alan Turing had been carrying out his code-breaking work on the Enigma machine. It was a secret she kept from her family for decades.
It was in late 1943 and Hitler's Nazi Germany still occupied much of Central and Western Europe - the tide of World War Two was still yet to turn.
Ms Roberts was living with her parents and had never even heard of Turing, but within weeks she was the working on the top-secret mission which has been credited with shortening the war by as much as four years.
Now aged 96, she talks about the time her life dramatically changed and the role she played in such an important part of the war effort.
"We couldn't talk about what we were doing, we couldn't breathe about it for more than 30 years," she said.
"My father died never knowing what I had done during the war."
While working in the printer department at Chloride Batteries, she was called up into the Women's Royal Naval Service - popularly known as the Wrens.
She then went to Scotland for three weeks of training, although she and her colleagues had no idea what they were preparing for.
They were then taken by train to the Ministry of Defence's site in Eastcote, Middlesex. It was an outstation of the intelligence base Bletchley Park and the "Bombe" code-breaking machines devised by Turing had just started to arrive.
The Bombe machine
Developed by a team including mathematician Alan Turing
Enabled cryptographers to decode more than 3,000 German messages in a day
Operated by the Women's Royal Naval Service (WRNS)
Originally housed at Bletchley Park, by the end of the war there were about 200 in various locations
Source: Bletchley Park
Ms Roberts and her fellow Wrens were given an ID pass and taken to a building heavily guarded by marines.
"Only when we were inside were we finally told about Bletchley Park and its role in breaking German Enigma codes," she explained.
"We signed the Official Secrets Act and it was too late to go back then, there was no escape."
Working in pairs, their job was to operate the Bombes and they were trained on the job.
"Intelligence officers would pick up German Morse code, turn that into a menu, which was a piece of paper like a map or diagram and we would then be given that to plug into the machine.
"We would set the machine off, it would then go through its calculations and then eventually it would stop."
The Wrens would then take a reading and phone it through to Bletchley Park. If the message was right then they could unplug the machine and start all over again on a different code.
But Ms Roberts never knew what the messages were.
"We never asked - all we knew was that we were trying to save a lot of lives. Speed and accuracy were most important, every minute counted."
Towards the end of the war, Eastcote expanded into the largest outstation of Bletchley Park, where about 100 Bombes were based.
The machines were in operation 24-hours a day and Ms Roberts and her colleagues worked eight-hour shifts around the clock.
"It was hard and tiring work but I enjoyed it," she said. "I look back fondly on that time and I made some good friends."
She worked at Eastcote for about 18 months. When the war with Germany ended in May 1945, she went to Bletchley Park to help crack the Japanese codes.
But by then Turing had left and she never got to meet him.
However, she's full of praise for the man who's considered by many to be the father of modern computer science.
"He was wonderful, he really was a genius."
After leaving Bletchley Park, Ms Roberts was sent to Devon to work with the Royal Marines before being demobbed back to Salford, where her job at the battery factory was waiting for her.
She later married, becoming Winifred Ogden and had two children. But the secrecy surrounding her job cracking codes during the war meant she stayed silent about it until the work of Turing and others became public in the mid 1970s.
"I was sorry my father died before I had the chance to tell him," she said sadly. "He was a brilliant engineer and would have loved to have heard my story."
It wasn't until 1996 that Ms Roberts and the others who worked on breaking the enigma codes were officially recognised by the government with a gold medal and certificate.
And more than 70 years later, she is still modest about their achievements.
"We're really proud that we were able to do it - it did help."