Dragons' Den dragons back 'black market' tuck shop pupil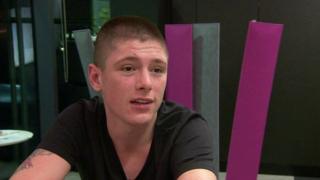 A young entrepreneur threatened with suspension for running a "black market" school tuck shop has received the backing of TV Dragon's Den experts.
Tommie Rose, 15, said he had made £14,000 selling fizzy drinks and sweets to other pupils at Buile Hill Visual Arts College, Salford.
The school said it was in breach of its "healthy eating policy".
Deborah Meaden, from Dragon's Den, tweeted: "He doesn't need a degree in Business... He's a natural".
Former Dragon Theo Paphitis also tweeted: "Did the same aged 14-16 at school,#WagonWheels,crisps,#CurlyWurlys. Good on him!"
In 2011, Tommie was suspended from another school for 10 days for repeatedly selling sweets there.
The teenager said: "I've been doing it since year seven, I'm now in year 11.
"It's so I can see myself through the first bit of university. I want to go to a top university in London to study business.
"My grades aren't too good right now, 50% has gone into selling, but now I've got my money I can put 100% of my time and effort into grades."
'Gap in market'
James Inman, head teacher of his current school, said: "We admire this pupil's entrepreneurship, but school is not the place to set-up a black market of fizzy drinks, sweets and chocolates.
"We have extremely high standards and with our healthy eating policy we don't allow isotonic drinks, fizzy drinks and large amounts of sweets for the good of our children."
The teenager said he bought the products from wholesalers and employed two other pupils to help him sell them at similar prices to newsagents.
Tommie's father, Gary Rose, said: "He's selling crisps, drinks - he's not selling prohibited substances. You can't kick children out of school for selling sweets.
"He saw a gap in the market and you can't push your products on to people, that's the big thing. His end goal was money for university, so, from a parent's point of view, how do you say 'no'."