Dale Cregan police escort photo investigated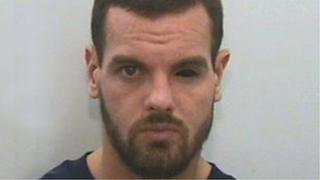 Police are investigating how a photo was taken of an escort accompanying murderer Dale Cregan from prison to hospital and shared amongst officers.
Cregan was taken from HMP Strangeways to North Manchester Hospital for treatment at the start of November.
Greater Manchester Police said the photo was "allegedly taken by an on-duty officer and subsequently shared with a small number of colleagues".
The claim is being investigated by the force's Professional Standard's Branch.
Cregan was jailed for life in June 2013 for four murders, including those of PCs Fiona Bone and Nicola Hughes.